Hello, everyone, last month I was in the Philippines documentary about Typhoon Haiyan and as I don't like going to big resorts or big hotels,  i prefer to go on a trip living with people, knowing their culture, and traditions, I'm going to tell about all that part of the Philippines that is really incredible and is what you cannot see nor they will show you in the travel agencies
Travel Philippines, Culture and traditions from Manila to Barangais
After about 20 hours of flight you will arrive in Manila, the capital of the Philippines, It is a country made up of 7,000 islands in Southeast Asia and you will have to endure 32 degrees and 80% humidity all year round.
The first thing you will have to face is the Manila traffic, the pollution and the taxi drivers, who they will try to deceive you all the time. and if you are looking for a place to stay,
I would start with Pasay City which is very close to the airport and next to the shopping center, the third largest in the world, is also good Taguig City you have the shopping centers from the channel Or Makati, which is the business city Where all the multinationals are
A note before you go out on the street, the sun rises very early, at a quarter to 6 in the morning and sets at 6 in the afternoon.
In the Philippines they start working very early, and as you can see the ultraviolet index is extreme. So, don't be surprised to see people with umbrellas or long sleeves even at 32 degrees.
What to visit in Manila
And we are going to start the Tour at Mall of Asia, the third largest shopping center in the world where you will find all the luxury stores and entertainment area with cinemas and theater plus you will surely find on weekends full of Chinese citizens who come here to shop in these luxury stores.
The next place that you cannot miss is Rizal Park, and don't forget to visit the Chinese Garden and the Japanese Garden they are amazing.
And we enter historic Manila, visiting Intramuros the walled city that houses the Manila Cathedral and Fort Santiago built by the Spanish Miguel López de Legazpi and where the Filipino Hero José Rizal was imprisoned before being shot in 1896.
It is important that you know that in 1521 the Portuguese explorer Ferdinand Magellan arrived in the Philippines and took possession of the Islands as a Colony of Spain until 1898, the year in which It passed into the hands of the United States.
And we entered the oldest Chinatown in the world, one of the most important commercial areas in Manila and where Filipino and Chinese culture mix.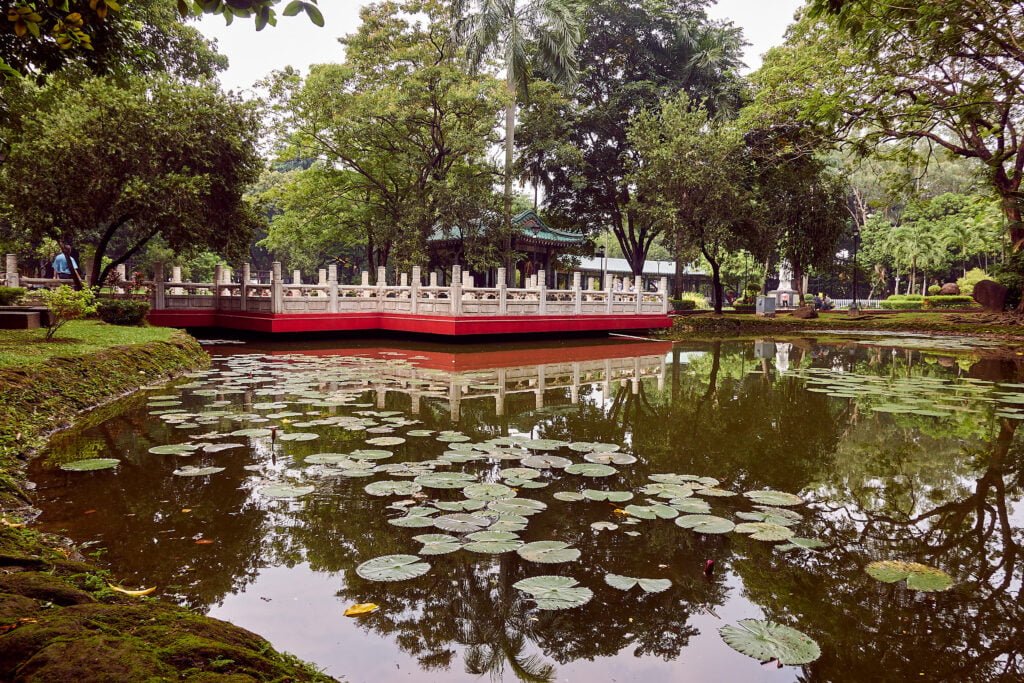 What to eat in Philippines
Because so much shopping we have become hungry. Let's try the famous chicken Inasal and they don't use knives here, you eat it with a fork and spoon.
And like a good Filipino, after eating we can go to Manila Bay, it is right next to the Mall of Asia and it is a promenade several kilometers long where all People go for a walk and take coffee day and night,
Street Food is famous here. A lot of food is cooked on the street and it is one of the means of subsistence for many families. So for snacks today we have fish balls, squid balls, Isaw and kikean, which they are basically fish, squid, chicken intestine, pork or shrimp with a batter and deep fried to get the crunchy taste that they call crispy here.
The Balot is also very common, a boiled duck egg but already fertilized and with its embryo inside.
We continue with the markets we are going to visit Baclaran market This market is open day and night. Although, as you know in the Philippines it is at night from six thirty in the afternoon both in winter and summer, here you will be able to find replicas of any luxury brand that you can imagine
And to go back to the hotel and avoid the Manila traffic the best thing you can use is the tuc tuc it is super fun Although the drivers do not always respect traffic rules.
Another place you can visit in Manila is the oceanographic or the Star City amusement park, as you will see, Manila is full of amusement parks, history, culture and places to visit, but we are going to move a little deeper into the culture of the Filipino people.
Way of life in Phillipines
and just a few meters from the large office buildings we see the reality of Philippines a country that has a minimum salary of 140 euros, a life expectancy of 69 years and where both healthcare and education are private
and from early in the morning we can see people on the street working or looking for a way to survive because Many of these people only eat if they have the money to buy food.
This, together with the fact that all schools are private, means that many children are forced to work to help the family economy.
So the work day begins when the sun rises and ends late at night, this makes it easy for you to find people eating, resting or sleeping on the street. Even if you see this and you are not used to it, the Philippines is a safe country, especially for the last 8 years.
Remember that they are poor people but that does not mean criminals. so you can move freely and without fear anywhere, especially outside the capital like any European or American city, and you realize the lack of purchasing power when you visit a Sari Sari Store.
These are small stores that you will find on any corner that sell everyday products here. You will see things like detergent, toothpaste or shampoo are sold in single-use containers and this is another means of survival that they have in the Philippines.
These stores are set up at home by opening a window to the street and are practically open 24 hours.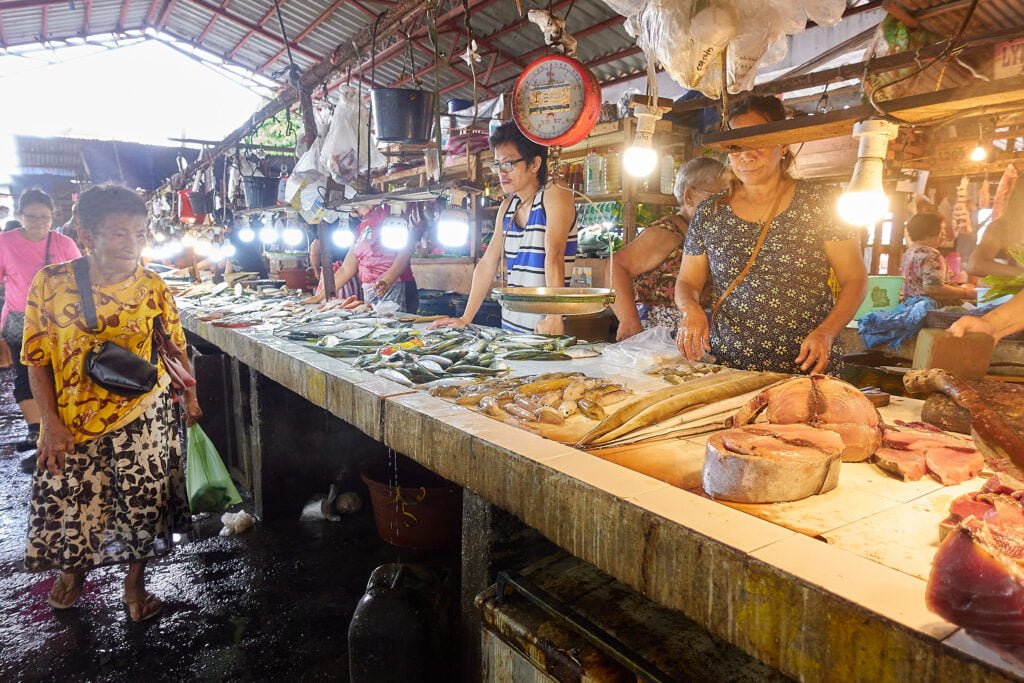 What to do in Philippines
And we move away from the cities and we see that the tuc tuc, whether with a motorcycle or a bicycle, is the common transportation because practically no one has a car and because it is a simple way to have a job, in fact you can see people getting up to travel just 100 meters and thus leave a few coins for the driver who don't have other way of living.
You also quickly realize that the largest vehicle always has preference
In a country with 7000 islands. Boats are very abundant and are used to transport people to deliver food and water to remote areas as in the case of this boat
but also for fishing, another means of subsistence for a large part of the population.
Here they live a simple life, without luxuries but very much with family and usually with many children, Between 6 and 8. Everyone collaborates with the family economy and enormous efforts are made so that the children study, in fact it is quite common to see teenagers in Secondary because not every year there is money to pay for school
in small towns or barangais like They call them here, whoever can have animals is already guaranteed food like this Buffalo leg to make soup, because here everything is used, they could teach us a lot about circular economy and recycling
Here they live in reality without great aspirations, expenses are reduced by essential minimum, the money is dedicated to food and what is left over for the education of the children.
And despite all the difficulties they face in their daily lives, they are a very religious people, mostly Catholic, and you will notice it by the amount of Churches, cathedrals and religious monuments that you will see anywhere like this Virgin of Mercy in Calviga or the Palo Cathedral visited by Pope Francis in 2015 two years after Typhoon Haiyan and which I talk about in another video
And after mass there is time for leisure. And if we talk about entertainment, karaoke wins by far, it is rare for the house that does not have a karaoke and brings together friends and neighbors in front of the microphone but also sports like volleyball or basketball are famous among the youngest.
Although this year lato lato is in fashion, a game that will destroy your nerves
And obviously going to spend the day at the beach with kilos of food and drink is another of the entertainment in a country that has 36,000 kilometers of coast, you usually pay a symbolic amount to access the beaches that have services such as tables, toilets, fresh water and garbage collection,
But if the beaches are incredible, nature is another level, the tropical climate makes coconuts, mangoes, pineapples or avocados are abundant and can be tasted freshly picked from the tree, something that you will only try when you go
And another entertainment, although less orthodox from the Western point of view, is cockfighting, it is a tradition with 6000 years of history and is practiced both amateur and professionally in large stadiums and million-dollar bets
Well, now you know more about the culture, traditions and way of life of the Philippines, a wonderful country that will welcome you with a smile.
Philipines 10 years after Haiyan Typhoon
Create your own International Volunteering