To know who is Jose A. Parra and how he got here, is to put on the shoes of a multipotential entrepreneur.

My rebellious First Communion, NO to the sailor's suit
Evidently, everything has an explanation in this life, and the decisions you make along the way explain your current situation.
"To whomever judges my path, I lend my shoes."
Well, there are several characteristics that have marked my decisions since i was a child:
Curiosity: I have always liked to read, research and learn everything about everything, and when I say everything is everything, I have never been satisfied with the superficial, I have had to go deep to know the ultimate why. Now they call it multipotentiality? Pragmatism: Making decisions after analyzing all the pros and cons in an eminently practical way… Listening to my heart has never been my thing, and I have always listened to my head. So "don't give me problems, give me solutions" has been the maxim.
Another phrase that has always marked me has been: "If a problem has no solution, it is not a problem, you have to assume it".
So with this psychological base, obviously the arts have always been bad for me, but I compensated with my facility for science, where the concept is much more important than memorization.
With this background, I decided to study computer science; and as a curious person, I was never satisfied with the official syllabus and devoured everything I could get my hands on about programming.
I also did my first steps developing applications for friends of my parents who had small companies, now called clients…
After finishing the official studies, I continued with the electronics branch, but I abandoned it for a job offer as a technician in a computer store, which lasted me little more than two years, as long as it took my curiosity to feel that I was going to learn little more there…..
During my period in the store, I got some more programming clients that I could attend at night or weekends, and this made me take the leap to work on my own… Now they call it self-employed or entrepreneur I think…
Entrepreneurship
So 1996 was the year to take the leap, with 23 years old and living with my parents, it was a unique opportunity to try… What could go wrong? And if it went wrong, the worst thing that could happen is that I would have to look for a job again…
So nothing, I quit my job and I dedicate myself to my programming clients, to whom now I also sell hardware… And to inform everyone to open the range of clients.
Little by little we are making clients and in 1998, and with a lot of fear, I hire my first part-time assistant… While I work from 9 am to 12 pm from Monday to Saturday… Now it's time to look for work for 2…
A year later, I hear about an offer of an office that was going to be repossessed, and I buy it to have a place outside my parents' house, where I can work with my employee who happens to be full time… I am already a mortgagee more married to the banks…
Shortly after, we start the distribution of a management software that I am personally in charge of and I have to hire one more technician, but my fears of failure make me continue with endless working days… I am the only one responsible for success or failure…
The 2008 crisis hit us, although fortunately less than in other productive sectors… In IT, new computers are no longer sold, but customers have to repair and expand the ones they already have if they want to continue working.
Burn Out
And then came what had to come…
Yes, almost a week in bed… diagnosis: "Burnout".
In the end the batteries run out and we have to recharge them, if we do not take this into account, burnout comes and then the stop is mandatory and it is a total stop, so it is better to recharge our batteries day by day because the loss is greater if they are completely exhausted.
Change of daily habits, I have learned the lesson (we learn the hard way) and it's time to join a gym to disconnect an hour a day and a weekend getaway a month to do something that has always caught my attention … Learning to ski ….
But of course, going skiing from where I live, is not the most comfortable thing in the world… 5 hours of car, hotels, ski passes, …. So I better look for a hobby that I can practice closer, a little research and I decide to do a diving course, I can do it practically all year round and close to home…
As my curiosity kills me, I end up doing several more advanced courses on deep and technical diving, as well as boat skipper… things of my restlessness to deepen in anything…
Diversify
Professionally I am realizing that customers are loyal to software, since a change of applications always involves an internal crisis and a learning curve, but not really to hardware, which can be purchased almost anywhere.
So in order to diversify the services we offer and build customer loyalty, we started the distribution of ERP, CRM and POS software. This forces us to incorporate one more person in the staff to be in charge of support and training, becoming 4 people.
Lifestyle
We continue to work more hours than clockwork, but with my escapades to diving, skiing and my gym that help me to disconnect.
I also discover spinning in the gym and it catches my attention, after trying it for a few months and doing a couple of courses (my curiosity is fatal), I am not satisfied and decide with a friend to try cycling for real.
Certainly, it is more fun to go outdoors in a group, but it is also much harder because the minimum effort to move the bike is much higher than the minimum of a stationary bike.
Crisis 2008
Like all companies, there are always ups and downs, some are caused by internal factors, but others come without warning due to external factors.
The 2008 crisis hit us, although fortunately less than in other productive sectors… In IT, new computers are no longer sold, but customers have to repair and expand the ones they already have if they want to continue working.
Anyway, it is not enough and I make two decisions.
I am trained in application virtualization, a well paid service that nobody does in my area. A priori a good idea to specialize, but after investing in training in Barcelona, I realize that there are really no customers who hire this service nearby, and those who do, come projected from companies in Madrid or Barcelona. I create a hardware maintenance service that allows to pay periodic fees for this service, guaranteeing recurring income, and this seems to please quite a few customers, with the premise of having a fixed cost in IT without surprises.
With hardware maintenance, ERP software maintenance fees and repairs, we are weathering the crisis without the need to restructure the company.
Competitiveness
We still go out cycling on weekends and some weekdays, especially in summer, when we have an intensive workday… So my curiosity has no end, and we start to participate in cyclotourism marches, which become clandestine races… And from there we moved on to cycling races, working with a coach and sticking to daily training plans.
In addition, with a cycling partner, I discovered Olympic shooting, which fascinated me because of the level of concentration it requires and which led me to participate in several Spanish championships with acceptable results.
Discovering the arts
At the moment, everything I do is purely objective, but my right side of my brain is atrophied and I have to do something?
Painting has always given me a bad feeling, but I've always liked listening to music and I'm studying piano… But with the curiosity that characterizes me I end up hiring a private teacher on Saturday afternoons and buying a grand piano, I have no excuse, if I play badly I'm to blame….
But, although it costs me a lot to learn because I'm not used to express feelings, I begin to feel comfortable little by little and psychologically more balanced.
The real world
On a diving trip to the cenotes of Mexico, I observed something that began to change my vision of life and the world we live in.
The day before flying out, there was no diving, so we spent the last day sightseeing in a car we had rented.
The visit to the pyramids of Cichen Itza was a must, but on the way we passed through several villages that looked like shantytowns, the same ones I had observed in Playa del Carmen as soon as you left the tourist area around the fifth avenue.
But it is in the Philippines where I corroborate my suspicions after spending several days with the family of a guy I had met, they live in the area where Typhoon Hiyan had passed a few years before, in shacks made of wood and branches, without running water and where the daily concern is how to get money to eat that day.
At that moment I realize that what is normal is NOT how we live in Europe, that we live in a luxury bubble because what is normal in this world is to make plans for the current day, to get money to eat; and vacations, the car or the weekly shopping are a utopia.
That what is normal in this world is to pay for health care, pay for schools, unpaved streets, empty refrigerators, washing by hand and shopping for the day.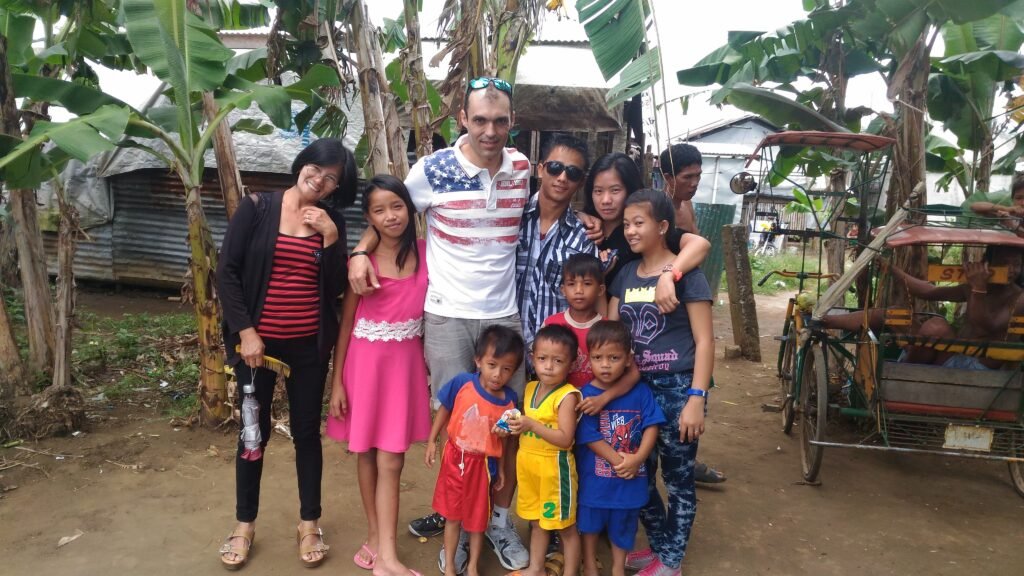 Back to Photography
Together with a Peruvian friend, my love for photography awakens in me again, since I had parked it since the change from analog to digital.
I begin to study technique and composition with Jose Benito Ruiz whom I meet in person in a course in Gandía, and I become passionate about night photography with Mario Rubio, whom I also meet in a tour around the island of Tenerife.
Shortly after I began to study lighting with Jon Hernandez, with whom I share several facets of my personality, such as curiosity and pragmatism.
Multipotential Entrepreneur
The professional growth does not stop either, and I hear about an opportunity to buy a warehouse in an industrial park, the time has come to leave the office in the city, to go to a place surrounded by big companies and possibilities.
We made the change in full pandemic, incorporating one more person who will be dedicated to the entire department of web design, e-commerce and software licensing.
Taking advantage of the change to a larger space, with a little more investment I decide to set up a photo and video studio to do commercial and product photography for clothing and footwear factories.
I do this with a friend with whom I had already done some work in the basement of the house or outdoors, knowing that I alone would be unable to perform these jobs plus the management of the computer company.
Personal Project
After some awards in photography contests, I overcome what José Benito calls the technical and aesthetic phase, so that I enter in the author's photography.
Within the world of photographers there is the concept of collaboration or TFCD, where models, makeup artists and photographers collaborate in the creation of images with a concept; it is within these collaborations where I begin to create some series of protest photos about the trend "Black Lives Matter" or against the war in Ukraine among others.
But after studying about storytelling and making several corporate videos, I also wanted to do something personal in video, possibly a documentary type; and while maturing this concept the images of Mexico and the Philippines come to my memory.
Improve the World
And from these shoes the project 'Improve the World' was born, which started as a kind of volunteering to create content about poverty in the world.
I was researching volunteer platforms, but as I didn't want any commitment, I got in touch with an NGO in Alicante that is working on schooling children in Uganda.
And social networks did their job suggesting me profiles similar to my searches, and so I met Ibrahim Kisoko who runs an orphanage in Uganda and had no access to platforms to manage fundraising campaigns, so I offered to create one for him on GoFundMe and spread it on my social networks.
As a result of creating the campaign, Ibrahim and I talk almost daily and we do videoconferences to see the progress of the orphanage, and it will surely be where I will shoot the documentary in the coming weeks …
But as I also had to give legal form to the project, I have already been with my advisor and my lawyer to see which fiscal figure is ideal for my purposes, and it seems that we will create a Foundation to manage all this fundraising.
Next Steps
Well, the future is uncertain… or so they say…
At the moment my idea in the medium term is to manage the Foundation and that both the computer company and the photography company work almost alone.
And possibly to live for seasons in a caravan, since my work allows me more or less to do it remotely, to travel "slowly".